About UNZEN ROPEWAY
Unzen ropeway began operations in 1957 and has been providing the ropeway transportation services from Nita pass station (1100 m) to Myokendake station (1300 m).
The difference of the elevation between both stations is 174 m and operation distance between both stations is 500 m. It takes 3 minutes to ride on the gondra to
reach Myokendake station from Nita pass station. There are two gondolas named "Ginga" and "Kinsei", and maximum capacity of each gondola is 36 adults.
Even though most of the ropeway operations in Japan are nowadays automatic, in order to secure the safety and comfortable operations and well organized maintenance,
Unzen ropeway is still manually operated by the well trained drivers who skillfully use a controller and a manual brake, like a train driver. We believe this manual
driving operation is one of symbols of our high standard technical skill and characteristic of Unzen ropeway.


Unzen is one of the first Japanese national parks designated together with Seto Internal Sea and Kilishima Island on March 16, 1934. From the top of Mount Myoken (Myokendake)
with an elevation of 1333m, you can enjoy dynamic sceneries consisting of several mountains and islands of Kyushu, such as famous Mount Aso and Kilishima Island if the weather
condition is permissible. In addition, you can also enjoy the mount "Heisei Shinzan" closely, which was formed by the eruption of volcano in 1990.

Winter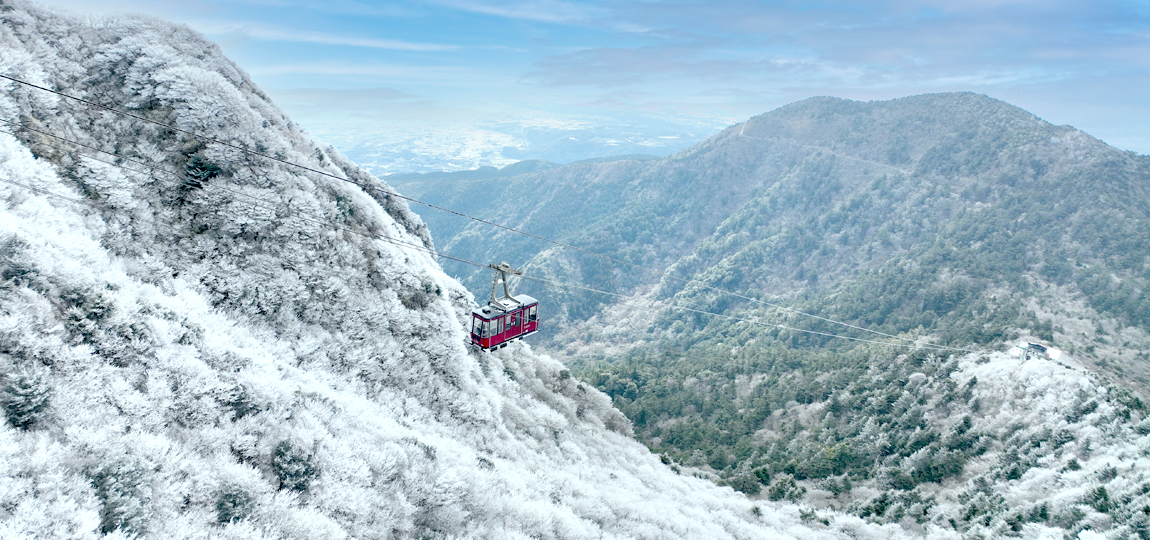 Rime is a natural phenomenon that the mist is frozen on the trunk and branches blown by strong wind below zero temperature. The first observation of rime is usually mid November or
early December each year. The rime will be reflected by sunlight in sunny day, as if the tree would be covered with glittering diamonds. Less than 5 minutes walking From
Myokendake station to Myokendake Shrine would lead you to the small lane covered by the walls of the trees with the beautiful rime scenery and will make you feel so fantastic.

Spring
"Rhododendron Kiusianum", known as Unzen azalea, will start beautifully blooming from early May. There are 100 thousands of Rhododendron Kiusianum around Nita Pass area and
the best viewing time thereof is, subject to each year's climate conditions, late May. At the aforementioned best season, so many visitors enjoy the beautiful scenery near
the top of Myokendake, one of the very famous spots to view Rhododendron Kiusianum in Kyushu.

Summer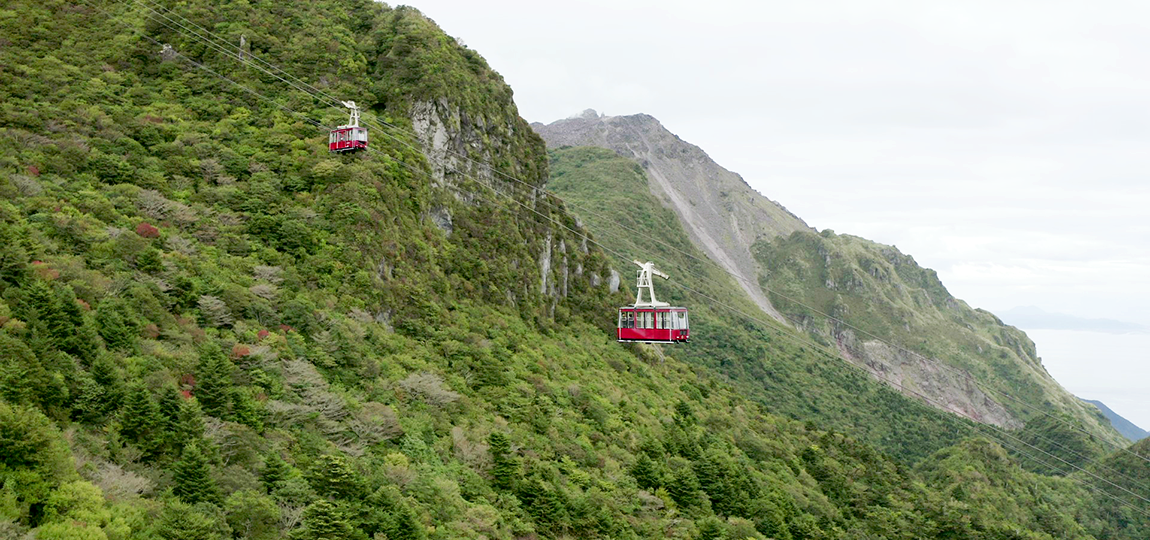 The summer of Unzen is very cool and an average temperature at the top of the Mount Myoken is 21℃ to 22℃. Unzen has been, therefore, very famous as a summer resort for
foreign visitors since more than 100 years ago (Meiji-era). Even in a very hot summer day, temperature of which is scaled more than 30℃ on the ground level, you may feel
very cool and comfortable atmosphere. From mid June to early July, you could also overlook the city tree of Unzen, Benthamidia Japonica with white flower.

Autumn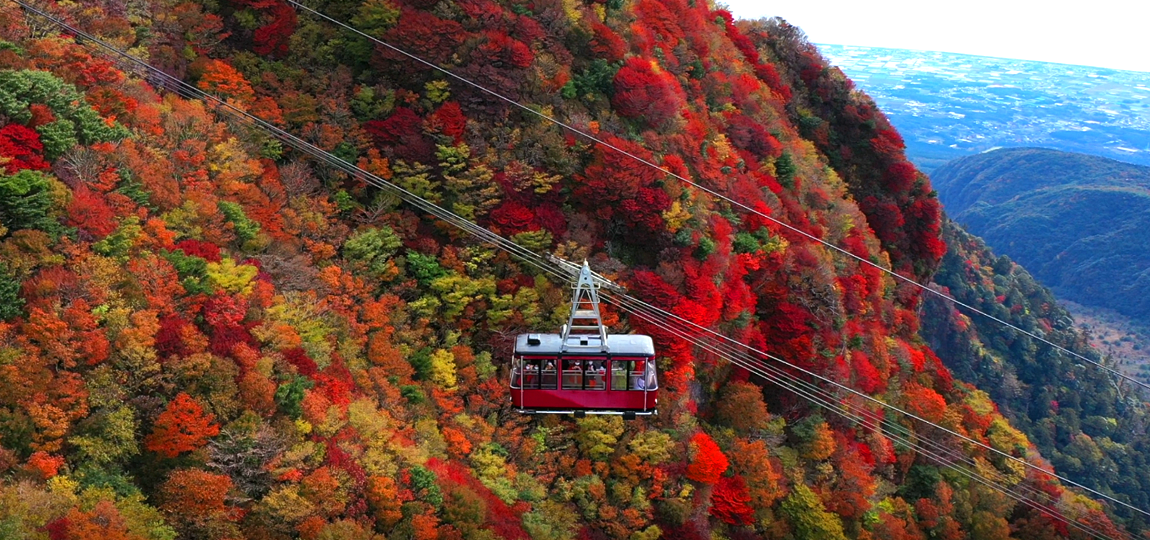 Myokendake in Autumn, with the leaves on the trees turning beautiful yellow and red maples, known as the "Fugendake Red Forest", was designated as a national natural treasure.
The red-leaf plants surrounded by the green-leaf groups are often compared to coral reefs living in the ocean and the breathtaking scenery. The view through the windows of the
gondola approaching to Myokendake Station would be especially identical to that of walking on the red carpet consisting of the masterpiece of red leaves. Myokendake is recently
ranked"top 10" of the red leaves popular spots in Kyushu.

Access >> Access method to Unzen(UNZEN Tourist Association)
[ Go to Google Map ]
For the visitors who come the transfer points, such as Nagasaki airport, Nagasaki station and Isahaya station by airplane, railway, ship or other means of transport,
it is convenient to rent a car to reach our ropeway station. The counters of rent a car shop are available at the airport and railway stations.
※ When you use navigation, please enter Nita pass management office as a destination or its telephone number, 0957-73-3688 to visit here.
For the visitors looking for the transportation from Unzen hot spring street to our ropeway station, It's really convenient to take a shared taxi.
Detailed information thereof are as follows:
Shared Taxi Information
Departure Time : 9:00, 11:00, 14:00 three buses,please make an appointment
at least 30 minutes prior to the departure time.
Boarding place : Unzen street bus stop
Fee (roundtrip) : Adult 860 JPY Child 440 JPY
Contact information : Heiseikankou Taxi
TEL : 0957-73-2010